In this age of the internet with its associated image-consciousness, it may sometimes feel like everyone is rolling in major dough and living it up, with perfect faces and bodies. You, on the other hand, are waiting on Baba God to pick up your call. Well, there's good news and it's two-fold. The first is, you don't need to feel intimidated by the images you see online. As we say in Naija, "na wash". The other bit of good news is, you CAN look groomed without having to steal or go broke, using these few tips.
Keep a pumice stone in your bathroom
Use this two or three times a week, while in the shower, to keep your manicures and pedicures lasting longer than usual. This way, you get to keep your hands soft and your soles looking smooth and neat in strappy heels or flats, without burning a hole in your pocket from pricey salon treatments every week or two.
Keep a nail file in your bag
We're assuming you already keep one on your dressing table or bathroom counter top. This can prove to be the difference between nails that look well groomed and raggedy nails with cuticles hanging out. You can pop into the restroom and file your just-broken nail (or let the tip of an emery board double as an emergency cuticle pusher), right before that all-important meeting where you'll hopefully be shaking hands over a hard-won deal.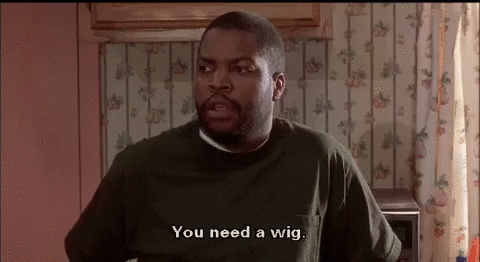 Invest in a wig already
Look sis, you ARE going to have bad hair days. It's inevitable like rain and tax (Holla, Ms. Dion!). Depending on what your schedule looks like, you probably don't have enough time to get to a hair salon every other weekend, and you certainly can't afford a glam team on standby or regular home service either (Unless you're Folorunsho Alakija or Kim Kardashian, of course). Investing in a decent AND affordable wig (or two) is an easy way to ensure you're not disgracing your ancestors unnecessarily.
P.S. We're taking it for granted that you DO wash your hair regularly.
Keep an old toothbrush handy
This one is a sweet little helper for your brows (brow brushes and mascara wands are even better!) and your hair (those pesky edges must stay laid!). A handy toothbrush will quickly take you from a frazzled-looking moment to looking as cool as a cucumber with not a strand of hair out of place.
Use your kitchen ingredients
You have a number of friends in your kitchen cabinet, from cinnamon and sugar, to honey and baking soda. Ingredients like eggs and milk will nourish both your hair and skin, and baking soda can be used as a whitener for your teeth. You can also make a DIY facial and/or body scrub/mask using honey and sugar or cinnamon. You get the bonus of smelling oh-so-yummy too. Mm… See how to use kitchen ingredients for skincare Here.
You don't have to try for a sleek, supermodel-perfect look (They're airbrushed and photo-shopped anyway). You can however, look like you love and care for yourself, without putting undue pressure on your already tight budget.
We hope you find these tips very helpful, and learn more about getting the best out of Skin Care products. Please share your favourite beauty/grooming hacks with us.